Saturday, November 12th
Alex Cartwright:
Alex Cartwright has been a crucial member to the Bloomington community for many years. Cartwright is a dedicated and caring individual with a strong passion for giving back to the community.
He has served on The Greater Bloomington Chamber of Commerce since 1996 and giving back to his community has always been at the forefront of his agenda. As a big advocate of My Sister's Closet (MSC), he has spent many afternoons volunteering. His continuous service and participation demonstrate his dedication to improving the lives of the Bloomington community.
He is proud to support MSC's "Celebration of Service" fundraiser because the proceeds will allow the organization to continue helping young women's lives. He feels that it is important to help vulnerable women because so often, no one else has, often coming from complicated situations, substance abuse, domestic violence, homelessness, or situations of little-to-no income. "You see, the public sees the physical store… but what is less known is how MSC is changing lives, the lives of women and children," Cartwright said. A high-profile event for the organization has been a dream of his and is exciting for him to see it come to life this year with the "Celebration of Service" event on Nov. 12th.
Cartwright is kickstarting this wonderful fundraiser by modeling the authentic WWII sheep skin bomber jacket on the event's promotional flyers! Cartwright's participation in the "Celebration of Service" team for the event demonstrate his loyalty for MSC, the Bloomington community, and all those who keep us safe.

Connie Shakalis: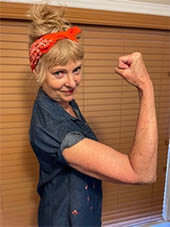 Another valuable member of My Sister's Closet's "Celebration of Service" team is the dynamic Connie Shakalis. She is bringing her fabulous acting and witty comedy skills as the evening's emcee, dressed as Rosie the Riveter.
Shakalis is the local arts critique in Bloomington Herald Times. She is an award-winning author and presenter, having been featured in numerous publications.
She is excited to use her performance skills at the "Celebration of Service" event to show her support for those who keep us safe. "It is so easy to not see those who are always prepared to leap in to help us. [Veterans and front-line workers] often wait in the shadows, risking their own personal safety for utter strangers," said Shakalis.
As a longtime supporter and fellow Rotarian alongside MSC's founder, Sandy Keller, this is the second event that Shakalis has added her comedic talents to. Prior to the pandemic, Shakalis was one of the featured players in MSC's dinner theater event, "The Last of the Red-Hot Lovers". My Sister's Closet is honored to feature her incredible talent at their "Celebration of Service" event.
Our Event:
Sparked by the donation of an authentic WWII bomber jacket, MSC was inspired to wait for the right moment to meaningfully honor this incredible gift. When the COVID-19 pandemic surfaced in March 2020, MSC was faced with the situation of serving clients without the support of regular volunteers or shoppers who help us run the organization and pay for most of the organization's expenses. MSC is incredibly grateful to see so many of these supporters returning.
During the pandemic, MSC's clients and their families were directly affected as many of them became a part of our community's critical support as front-line workers. These courageous and determined women filled roles in hospitals, emergency services, retirement communities, etc. Along with our unstoppable front-line workers, several of MSC's clients, who are veterans or are a part of military families, also stepped up as needed to serve.
These impressive women have inspired all of us. The "Celebration of Service" fundraiser, featuring this incredible piece of WWII history, thanks veterans and front-line workers everywhere.
MSC's "Celebration of Service" fundraiser is taking place from 5:30 – 9 p.m. on Saturday, Nov. 12th at the American Legion Burton Woolery Post #18, located at 1800 W. 3rd St. Bloomington, where guests will find the American Legion turned into a WWII night club, featuring a live band playing 1940s swing and jazz dance numbers. Attendees can also expect a scrumptious dinner, a specially made "Sentimental Journey" cinnamon cocktails, some heartfelt client success stories, and an online auction.
Items that bidders can expect to find:
An authentic WWII sheepskin bomber jacket received as a donation to MSC with a cartridge shell in the front pocket
A five-course dinner with wine pairings by Chef Matt Plaisier: an intimate evening of food, wine, and live music all in an 1870's historic home now known as The Ivy
A magical private "High Tea Experience" for 12 in My Sister's Closet's new formal room with 10 types of finger sandwiches, as well as a variety of desserts
A made-to-order painting at the event presented by Adam Long
Gift baskets, vacation experiences, jewelry, artwork, and more
The first 50 veterans that reserve a seat directly with My Sister's Closet will receive their tickets for $25!
Tickets for veterans and front-line workers are $35 each or two for $65. General tickets are $55 each or two for $100. Tables may be reserved for $50 a person. For more information about tickets and the event call My Sister's Closet at (812) 333-7710.
More information is available on the online auction and tickets.
Alisha Ahmed
Green Side of Pink – Journalism Intern
My Sister's Closet of Monroe County